We are Gleam Team! We believe in the value of work, care and delight to bring beauty and restoration to our communities through our exterior cleaning services. Our desire is to give each of our clients a hassle-free experience — starting with that first moment of contact — and to continue to earn our reputation of expertise and trust that we have carried since our inception in February 2011.
We stand by our values and vision so strongly that we offer a 100% Satisfaction Guarantee! Not only do we hold these values with our clients, but we also integrate work, care and delight into our organization. This has earned our company a position in the top 50 Best Places to Work in the small business category in San Antonio! We take pride in our story, our values and our vision, and can't wait to see what the future holds for us!
What Makes Gleam Team Different?
There may be a dime a dozen cleaning companies out there, but none of them are like Gleam Team. We maintain high standards of service and are the top experts in our field.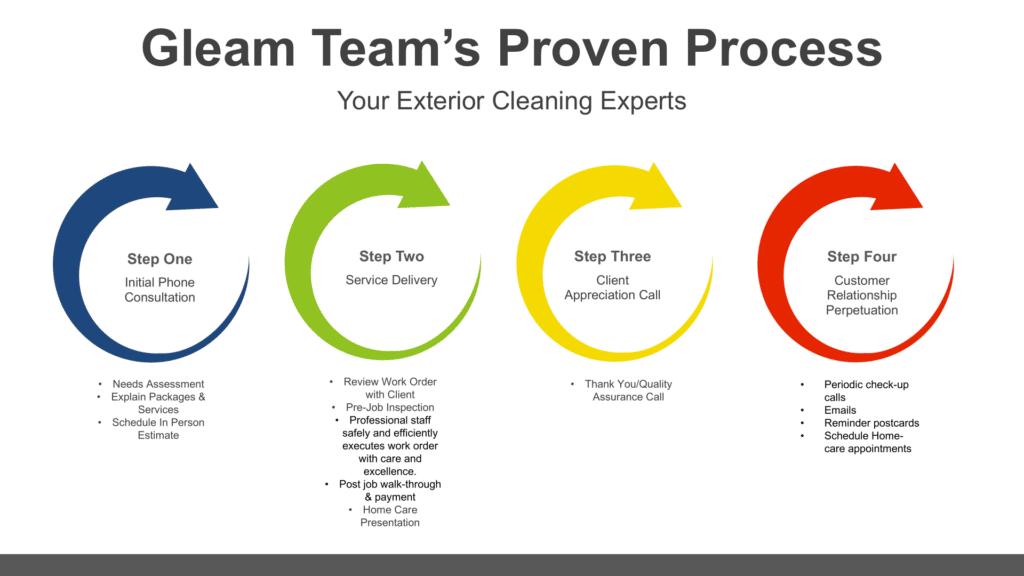 Professionalism
It is our goal to be the best service-oriented business in America! This starts with always following through on what we say we're going to do. We want our customers to experience the peace of mind of knowing exactly what to expect from our team. Each and every time Gleam Team services your home or business:
We will be on time – Gleam Team is the ONLY San Antonio window washing company that guarantees we will be on time or we will pay you! (call for details)
We will be in uniform – We are the premier window cleaning company in San Antonio and are committed to looking the part. Gleam Team is the ONLY San Antonio window washing company that wears photo ID badges so you always know exactly who is in your home.
Gleam Team will show up in clean, clearly marked company vehicles – No employees will ever drive their personal vehicles to your house causing you to wonder who just pulled into your driveway!
We will answer the phone – Part of being professional is being there for you when you need us. We will always strive to answer the phone during normal business hours. In the unlikely event that we miss your call, we will do our best to get back to you within 90 seconds.
Quality
Gleam Team is committed to providing the best quality workmanship in San Antonio.
We use only the best tools and cleaning solutions available to ensure you get the best possible results.
We never use your home for on-the-job training! All our technicians go through our extensive in-house training program before they ever set foot on your property.
We will not leave any job until you, the homeowner, have inspected our work and are completely satisfied. You are protected by our industry-leading 100% Satisfaction Guarantee. If you're not satisfied, with both our workmanship and the way you are treated by our company, then you don't owe us a dime!
Expertise
Contrary to popular belief, services like window cleaning are actually highly specialized skills. Technological advancements have changed almost every aspect of our lives, and windows, roofs and driveways are no exception.
Today, many windows come equipped with special Low-E coatings designed to improve efficiency. Certain windows must, by law, be made of tempered safety glass. These advancements in technology have also necessitated advancements in the window cleaning and home cleaning processes.
At Gleam Team, we have the prerequisite knowledge and skills to safely clean your glass, home, roof and concrete. We have over 14 years of combined experience in the San Antonio pressure washing and window cleaning industry.